NEW – Just In!
Written by Ashlie's Books on November 24th, 2017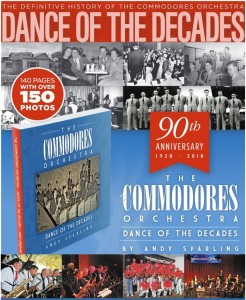 On May 23, 1947, the musicians in the Commodores Orchestra opened Club Commodore, their newly winterized big band nightclub on the fairgrounds in Belleville, Ontario, a city of roughly 17,000 souls.  The musicians had created their own co-operative, and had each invested the modern equivalent of $25,000 into what wass by today's standards a million-dollar operation.  Incredibly, they had done the hard physical labour themselves.
How did this collection of small-city accountants. mechanics, insurance men, clerks and carpenters do it?  The nine-decade story of the Commodores Orchestra, told by Andy Sparling after two decades of collecting information and photographs, is as intriguing and unique as it is improbable, no matter where you live.
And not likely to ever happen again.
---